Microbiological Organisms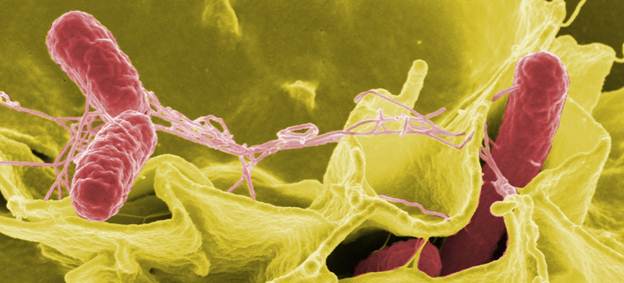 Salmonella Source: Rocky Mountains Laboratories, NIAID, NIH
Of all the pest groups, these organisms are the most encountered yet they are often not viewed as "pests". Microbiological organisms include bacteria, viruses, protozoa, algae or slime. These organisms can be found on plants, animals, inanimate surfaces, in water and even other liquids. In the worst cases, organisms such as viruses and bacteria, can present serious health concerns since they are the cause of many human sicknesses. In lesser cases, such as algae, the organism may be of little health concern but presents sanitation and maintenance issues by growing on the surfaces of pool liners or aquariums. The most commonly used pesticides for management of microbiological organisms include disinfectants (sprays and wipes), sterilants, algaecides and biocides. Like other pesticides, antimicrobial products such as disinfectants and sanitizers also have associated risks and hazards. Always read and follow the label. Included on this page are resources related to the use of these products for controlling various microbiological organisms. NOTE: Fungii and diseases which infest plants are discussed in the Fungii and Plant Diseases section of this website.
Resources for Managing Microbiological Organisms Indoors
Structural Issues Related to Molds and Mildews –This webpage has information related to managing molds that infest homes or other buildings.

What are Antimicrobial Pesticides? –This Environmental Protection Agency (EPA) webpage discussed substances used to destroy or suppress the growth of harmful microorganisms on inanimate objects and surfaces.

Antimicrobials Topic Fact Sheet –This fact sheet developed by the National Pesticide Information Center (NPIC) provides further information about the various types of antimicrobial products and their use.

Selecting the Right Antimicrobial Product –This page of NPIC's website provides consumers with information about selecting and using antimicrobials.
How to Clean and Disinfect Schools to Help Slow the Spread of the Flu -CDC resource discussing methods to slow the spread of influenza (flu) in shool settings.
Resources for Managing Microbiological Organisms in Healthcare and Hospital Facilities
Selected EPA-Registered Disinfectants
–The EPA has developed listings of EPA registered antimicrobial products that are effective against various specified human blood pathogens. NOTE: Before selecting and purchasing a pesticide from EPA's list, make sure that the product is also registered in Virginia. Visit the
Pesticide Product Registration
page of the VDACS website and select a database from under the topic "Check Registration Status."
Resources for Managing Microorganisms in Aquatic Environments Such as Pools, Hot Tubs or Spas
Safe Storage and Handling of Swimming Pool Chemicals
–This Fact Sheet or
Alert
was released by EPA in 2001 to provide information about the safe storage and handling of pool chemicals. Improper storage or use of these products can result in fires, toxic vapor releases or personal injury.
Recommendations for Preventing Pool Chemical-Associated Injuries
–This website maintained by the Centers for Disease Control and Prevention (CDC) provides recommendations on how to prevent injuries from pool chemicals. Many pool chemicals are pesticides, such as disinfectants or algaecides, which have labels with instructions and precautions intended to reduce both risks to the user as well as to those entering treated pools. Failure to follow the label is not only a violation of federal law, but also can result in injury.
Pool Chemical Safety: Protect Yourself
–This poster produced by the CDC provides a summarized list of ways to protect yourself and others from injuries caused by pool chemicals.
Pool Chemical Safety: Storage -CDC poster providing storage tips for pool chemicals.
Homeowner Tips:
Disinfectant Contact Times: When using disinfectant sprays and wipes or sanitizers note that the label may have a specified contact time for the product to be effective. For example, a disinfectant or sanitizer may instruct you to spray a surface and then allow the spray to sit for 5 minutes before cleaning or wiping it away. If these directions are not followed, the product may not be effective in controlling the microbiological organisms listed on its label.

Controlling Microorganisms: These are some common sense steps that consumers can take to reduce the spread of microorganisms. For example:
Wash hands frequently and thoroughly, especially if you think you have been in contact with harmful microorganisms
Wash surfaces that contact food (e.g., utensils, cutting boards, counter tops) with a detergent and warm water
Wash children's hands and toys regularly
-Source: EPA