Fungii and Plant Diseases
Molds, mildews and similar organisms can present a problem in the home, lawn and garden when the conditions are right. If you are dealing with mold or mildew issues in your home or a building visit the Structural Issues Related to Molds, Mildew and other Fungi page.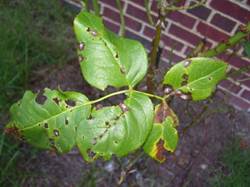 Foliage of Rose plant showing evidence of plant disease and insect infestation
Issues in the Lawn and Garden
The impact of diseases on plants in the lawn or garden can be determined by many environmental factors including moisture, sunlight exposure, soil conditions and season. Managing diseases will involve evaluating all of these factors and determining what if any environmental changes can be made before utilizing a pesticide. Caution must also be taken in preventing the spread or re-infestation of a plant disease by removing diseased plants or plant debris from the yard or garden. Additionally, care must be taken when obtaining new plants to inspect them for disease or to find disease resistant breeds.
If you need help in identifying or managing a plant disease or mold issues, contact your cooperative extension agent for assistance.

The following resources have been developed by Virginia Tech's Cooperative Extension and may provide information about various diseases that are not included in the link above.

Virginia Cooperative Extension Plant Disease Related Publications
VCE Pest Management Guides-
Lawn (Home Grounds & Animals, Diseases, pg. 5-1)
Turf (Horticultural & Forest Crops, Diseases, pg. 7-1)
Snow Mold (Podcast)
It's Only a Matter of Slime (Podcast)
Boxwood Blight Task Force -Website contains Best Management Practices, images, and information on sanitizers and fungicides used to manage Boxwood blight.
Plant Disease Updates- Disease updates from the Department of Plant Pathology, Physiology, and Weed Science.

Integrated Pest Management for Plant Diseases in the Home Garden and Landscape. Learning modules from Virginia Tech and the VCE:
Other Plant Disease Resources:
Diseases Quick Reference Pest Fact Sheets
(WVU Extension)
Turfgrass-Diagnosing Turfgrass Diseases
(NC State)
Turfgrass Disease Identification
(NC State)
Hiring a professional? Check their qualifications
Individuals or businesses that apply pesticide commercially to control plant diseases must be licensed by the Office of Pesticide Services. In addition, their employees must be certified.
To learn more visit the following sections of the website:
Is Your Pest Control Company Licensed?
Hiring a Professional